The Complete Hiring Checklist for Growing Businesses
Let's face it, hiring is tough. It's always exciting to grow, but if you don't have a solid process in place to make hiring decisions quickly and effectively, growing your team can feel intimidating. This checklist is here to help! This easy-to-implement framework will help you formalize your hiring process, evaluate talent, and avoid common pitfalls.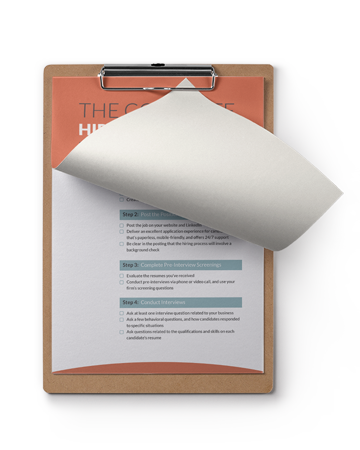 This checklist will help you:
Prepare for success and prevent turnover, before you've even hired
Decide where to post your job for your industry
Screen and interview candidates effectively
Verify candidate qualifications and address potential red flags
Onboard new employees successfully
Need industry-specific advice?
Some industries require special considerations to find the right fit for your business. In addition to a generic hiring process any business will benefit from, we've also included checklists for the following industries:
Healthcare
Manufacturing and Warehousing
Retail and Food Service
Staffing
Financial Services
Don't see your industry? Click here for a one-on-one consultation.